Page - Blog Single Column Left Sidebar
Awards & Recognition
Exceptional achievements are within our reach when we stand tall on a foundation of personal integrity, hard work and unwavering determination.
We recognize employee every Quarter with Star and Pearl awards. It lets our employees know that their hard work is valued. The system we follow always motivates our executives to reach higher standards of performance besides shows them that they deserved.
The key elements we notice in our executives are
Performing extra duties beyond those normally assigned.
Performing other roles when the department is short staffed.
Volunteering for and working on special projects.
Employees who perform normally assigned responsibilities at an exceptional level
Developing new work methods that reduce waste or stretch resources
Making creative suggestions that save the department time/money.
All these are the outcomes of hard work and dedication of our executive's that gets improved day by day, year to year, exemplifies and justifies to organisation Success.
Coimbatore Vizha 2016
A citywide initiative by Confederation of Indian Industries & Young Indians (CII – Yi). YI an integral part of CII extended a memento recognizing ANGLER 's & Trinetra's Partnership. ANGLER was the Mobile App Partner & Trinetra was the Technology Partner for the event.
Contribution by our Mobile team on the ShowTime App for the Event.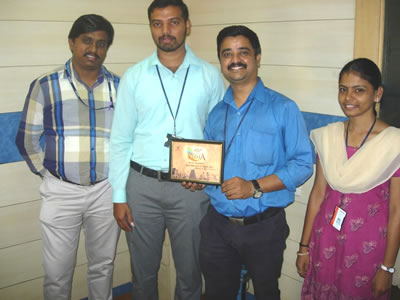 Contribution by our Web Design & SEO team on the design aspects of the website
TESTIMONIALS
An IT company for better career growth in Coimbatore
1. Performance oriented growth opportunities helps to improve leadership qualities by assigning responsibilities to handle team, interaction with client, etc. 2. Process oriented company, that keeps their processes transparent with employees and help
Sr.Software Engineer | Mobile & System Division
Good Career Opportunity
1. Good in Training session provided during the LC period 2. On-time supportive co-working team members for any critical tasks 3. Talent recognition & providing opportunity invariably of experience in the company 4. Working environment and Mentor
Sr.Software Test Engineer | Quality Analyst Division
Process oriented IT Company to work with
1. Good Process & well-structured company. 2. Opportunity to learn, gain knowledge, apart from our core function.
Sr.Executive Admin & Support | Operations Support
Good Career for Learner's
1. Good Career Opportunity 2. Better place to increase planning skills 3. Opportunity to coordinate with clients, if we have required skills
Sr.SEO Analyst & Content Developer | Digital Solutions
Good start up for Junior levels for their carrier growth.
Mentoring policy for guide the junior employees when new to the company. Monthly feedback and people review meeting. Friendly environment and easy approach of top level management to share my thought (reg project development)
Associate Project Lead | Microsoft Division
IT Company to Challenge & Success
Good exposure provided in terms of client, technical and process Good assistance from the seniors and management when there is a problem Challenges are tackled as a team and proper training is provided for new technology On-time salary, payslip &
Associate Project Manager | Microsoft Division