Page - Blog Single Column Left Sidebar
Internal Trainings
An organization's ability to make employee learn, and translate that learning into action rapidly, is the ultimate competitive advantage.
We believe Employee training is essential to both a company's growth and an individual's success. Before designing any learning and development program, we assess employee skill gaps & identify the needs that can help them in their career growth. We in ANGLER Provide such opportunities from time to time for our employees to get updated and add value to the workplace.
We have vertical wise comprehensive training to train employees in-house, with the use of external trainers or an e-learning repository of lessons. We frequently organize technical sessions, give customer focused trainings, Prepare Learning charts and much more to bring values to work culture, from.
Our employees have embarked on the journey of talent segmentation to identify high potentials, recognize them and provide them with a development plan to grow their career with the organization.
Our Certified Internal Auditor's Batch on this FY 2015-16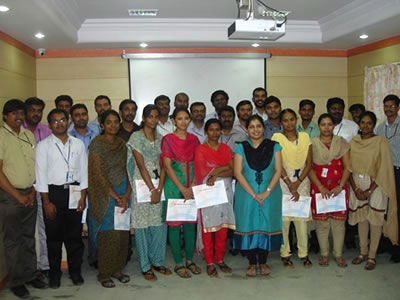 Enhancing quality management system by imparting Internal Auditor Training.
TESTIMONIALS
An IT company for better career growth in Coimbatore
1. Performance oriented growth opportunities helps to improve leadership qualities by assigning responsibilities to handle team, interaction with client, etc. 2. Process oriented company, that keeps their processes transparent with employees and help
Sr.Software Engineer | Mobile & System Division
Good Career Opportunity
1. Good in Training session provided during the LC period 2. On-time supportive co-working team members for any critical tasks 3. Talent recognition & providing opportunity invariably of experience in the company 4. Working environment and Mentor
Sr.Software Test Engineer | Quality Analyst Division
Process oriented IT Company to work with
1. Good Process & well-structured company. 2. Opportunity to learn, gain knowledge, apart from our core function.
Sr.Executive Admin & Support | Operations Support
Good Career for Learner's
1. Good Career Opportunity 2. Better place to increase planning skills 3. Opportunity to coordinate with clients, if we have required skills
Sr.SEO Analyst & Content Developer | Digital Solutions
Good start up for Junior levels for their carrier growth.
Mentoring policy for guide the junior employees when new to the company. Monthly feedback and people review meeting. Friendly environment and easy approach of top level management to share my thought (reg project development)
Associate Project Lead | Microsoft Division
IT Company to Challenge & Success
Good exposure provided in terms of client, technical and process Good assistance from the seniors and management when there is a problem Challenges are tackled as a team and proper training is provided for new technology On-time salary, payslip &
Associate Project Manager | Microsoft Division