Page - Blog Single Column Left Sidebar
Internal Trainings
An organization's ability to make employee learn, and translate that learning into action rapidly, is the ultimate competitive advantage.
We believe Employee training is essential to both a company's growth and an individual's success. Before designing any learning and development program, we assess employee skill gaps & identify the needs that can help them in their career growth. We in ANGLER Provide such opportunities from time to time for our employees to get updated and add value to the workplace.
We have vertical wise comprehensive training to train employees in-house, with the use of external trainers or an e-learning repository of lessons. We frequently organize technical sessions, give customer focused trainings, Prepare Learning charts and much more to bring values to work culture, from.
Our employees have embarked on the journey of talent segmentation to identify high potentials, recognize them and provide them with a development plan to grow their career with the organization.
Our Certified Internal Auditor's Batch on this FY 2015-16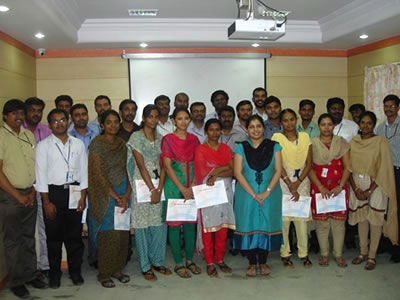 Enhancing quality management system by imparting Internal Auditor Training.
TESTIMONIALS
A Good place for people to start / build their career
Wide range of opportunities to learn and grow. Responsibilities / Key roles are based on performance and not based on the length of service which motivated me much more. Performance is measured in different aspects and the measurement policies are tr
Senior Project Lead | Microsoft Division
A company with good brand name
Can able to maintain work & family balance. Working closely with Mgmt. team to know about strategic approach. No salary related issues – in making the payments on time, including the incentives & performance related pay, as agreed.
Asst.Manager - Business Development | Operations Support
Most valuable company in my career
A Happy place to work, the department I belong to. Lovely & supporting co-workers always. I re-joined the company once, when I looked back to relocate to Coimbatore – process oriented company, to learn current trends & implement in projects
Sr.Project Leader - Design | Digital Solutions
Good learning environment & career growth
A better learning environment for latest technology implementation. Good place to equip client handling skills. Friendly environment, easily able to have access to management team. Good work environment.
Sr.Software Engineer | Microsoft Division
Process oriented company
Excellent learning opportunity. Motivation from the team working with. Process / Procedures to follow is a very good one.
Sr.Executive Admin & Support | Operations Support
Right place for your career growth
Good opportunity to learn new technologies ,LC (providing time to learn ) and can improve all types of skills like project estimation, team handling, development and project process. Good defined process for all project handling , flexible working ho
Project Lead | Open Source Division