Page - Blog Single Column Left Sidebar
Internal Trainings
An organization's ability to make employee learn, and translate that learning into action rapidly, is the ultimate competitive advantage.
We believe Employee training is essential to both a company's growth and an individual's success. Before designing any learning and development program, we assess employee skill gaps & identify the needs that can help them in their career growth. We in ANGLER Provide such opportunities from time to time for our employees to get updated and add value to the workplace.
We have vertical wise comprehensive training to train employees in-house, with the use of external trainers or an e-learning repository of lessons. We frequently organize technical sessions, give customer focused trainings, Prepare Learning charts and much more to bring values to work culture, from.
Our employees have embarked on the journey of talent segmentation to identify high potentials, recognize them and provide them with a development plan to grow their career with the organization.
Our Certified Internal Auditor's Batch on this FY 2015-16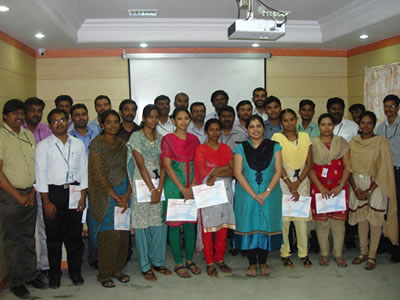 Enhancing quality management system by imparting Internal Auditor Training.
TESTIMONIALS
Career Growth Oriented
Employee's career growth for Junior & Middle Mgmt. is well established Good opportunities given to the employees for their professional growth Excellent guidance given by all grade of people, for their growth
Manager - Business Development | Offshore
ANGLER for Better Future
It is very useful to improve career growth In technical aspects, very helpful as seniors support Training &Workshop conducted was useful for all levels of executives
Project Leader | Open Source Division
Good Motivated Company
Good Work Culture Good Coordination within the Team on Projects Descent pay along with lot more knowledge to gain
Software Engineer | Open Source Division
Technology Company at Par in Coimbatore
Learning opportunity Good support from senior staff New technology updation is good Good work environment
Junior Software Engineer | Mircosoft Division