Ruby On Rails
We have expertise in developing highly interactive, quality, efficient, affordable and reliable ROR development & applications
Our ROR experts have extensive experience in Linux / Windows, Apache/ Thin/Unicorn/Pushion/ Puma/ Passenger/ Nginx, MySQL / Mongo/PostgreSQL, ROR /AJAX/Bootstrap/Jquery/REST API/Ext Js
We  have effectively completed a number of web programming projects using ROR framework
Expertise in serving Android / iPhone / iPad and desktop applications to clients through ROR REST API
We provide web-based Content Management System for websites using ROR framework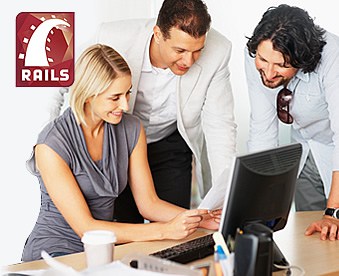 Page - Ruby On Rails
Offshore RoR Software Development
ANGLER offers Offshore Development Center (ODC) services and has expertise in developing highly interactive, quality, efficient, affordable and reliable ROR Development & Applications. ANGLER focuses on high quality ROR solutions and is open to all kinds of innovations in this upcoming technology. ANGLER Technologies offers ROR Application Development to customers worldwide in India, UK, USA, Canada, Singapore, Dubai, Hong Kong & Australia.
AT ANGLER, our dedicated team of RoR developers can create web 2.0 applications using latest Ruby on Rails web services. We are committed to provide our clients with cost-effective solutions, high quality service and outstanding support for latest and well-known open source technology RoR. Our expert RoR programmers can develop systems tailored to suit all your needs. With a team of experienced RoR professionals, we help you leverage the benefits of Ruby on Rails.
ROR Development Platforms
Ruby on Rails Versions  – Ruby – 3, Rails – 5.2.2
ROR Programming Skill Sets
Web based interactive solutions with AJAX
Expertise in developing applications involving social networking and map integration
Expertise in serving PDA, Android, iPhone and desktop application clients through web services
Behavior Driven Development using rspec
Rails deployment and hosting in Amazon EC2 and using Passenger with Nginx
Custom XML Parser and Ruby Crawler class implementation
Content Management system for websites
Porting application from other technologies
Mongo mapper class implementation
Twitter, Facebook integration
Solr, Elastic, Vertical, faceted search implementation
ANGLER strives to focus on the customer and deliver solutions designed around their needs as we possess quality ROR Programmers & ROR Experts. We have dedicated ROR software development team with extensive experience in Linux / Windows, Apache / Thin / Unicorn / Pushion /Puma/ passenger/Nginx, MySQL / Mongo/Postgresql , ROR & AJAX / Ext Js with full functional knowledge base to meet the customer expectations with our Offshore Development Center (ODC) services.
Contact us today to know more about our ROR web development services or to hire our ROR developers for your needs.
Why Wait and Watch the Way?
Grab Your Opportunity Immediately