Mobile Apps Development
We offer a unique expertise in Mobile Application Development for various platforms including iPad, iPhone, Blackberry, Android, Symbian OS, Windows Phone, J2ME, Nokia, Bada & Qt.
So far more than 420 mobile apps have been developed
38000 hours of mobile application development experience
Many applications available on Apple iTunes & Android Market
Mobile application development exp on iPhone, Blackberry, Nokia, etc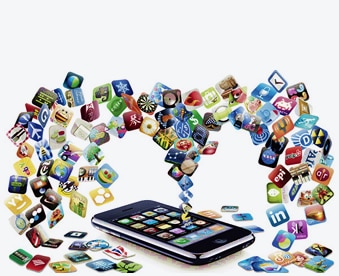 Page - Mobile Apps Development
Harnessing the power of the mobile technology for your business!
With mobile technology becoming the focus nowadays and the world turning wireless, Mobile Application Development is on rise. ANGLER has wide experience in Mobile Apps Development and has harnessed mobile technology for platforms like iPhone, iPad, Android, Blackberry and Symbian. We are experts in iPhone Application Development and expertise in using Cocoa and XCode frameworks.
ANGLER leverages offshore cost and resources advantage to reduce development cost and time across various mobile application developments. Hire our Mobile App Developers experienced developing and porting of mobile applications in phone, Android and Windows 7 phones.
ANGLER has proven Mobile Application Development expertise to address your needs from simple SMS alert to full-blown Mobile Product Development requirements. We focus on mobile application needs and how it will fit within existing businesses. Even if one has a brief business concept of a mobile application, ANGLER will deliver a comprehensive solution that meets their business objectives. Our unique mobile service offerings create customer confidence in the development of a mobile application during its entire life cycle. ANGLER has mastered in mobile apps development and has served many clients across the globe.
Applications
Sales Force Automation
Inventory Tracking and Verification
Mobile Service Force Management
Logistics Tracking and Warehouse Management
Integration with backend ERP software systems
Mobile Product Development and Testing Services
Feed Reading System in iPhone
Shopping Services in iphone
GPS based application development for iPhone
Game Application development for iPhone
Professional cooking training services in iPad
File Sharing System in iPad
Mobile Apps Development
Tracking item status and synchronization
CRM based Mobile product development
Why Wait and Watch the Way?
Grab Your Opportunity Immediately