MAC App Development
We provide a range of services on Mac OS application development with the support of our deep desktop application development and web application development expertise.
8+ years of development experience on Macintosh Development
Experience on development for Mac OS systems since 8.6 – 8.6, 9.x, 10.x
Experience on CodeWarrior 7, 8, 9 and 10 Mac Development IDEs
Experience on MPW, Project Builder, and Xcode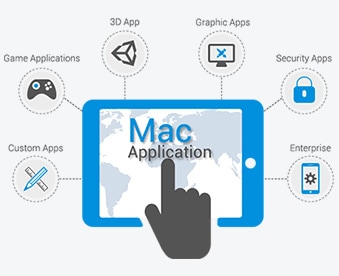 Page - MAC App Development
Take Your Business with Excellent Mac App Development Solutions
Mac is the primary operating system of Apple, and Apple is the biggest name in the smartphone industry. Its user base is very large, and it's increasing. Every business wants to use Mac App so that they can target their Apple users also. It's pretty obvious that companies want to develop an app for Mac platform to target the Mac App user base and see to that they do not stay behind their competitors anywhere.
We pay special attention to Mac App Development for start-ups and emerging companies. Our team does Mac programming for all the versions of MAC OS X including Mavericks, Snow Leopard, Leopard, Tiger, Panther and Jaguar.
Our smart, innovative and market-oriented approach helps us in delivering cutting-edge solutions to our clients. We are one of the leading names in the app industry. Our team has built a wide range of apps for the iOS platform. We have developed applications of various verticals including real estate, Chatting, and Messaging, Transport, Health Care, e-Commerce, Entertainment, Logistics, Finance, and Education. Our team ensures that you get a perfectly designed application.
Our experience includes MAC App programming for all the versions of MAC OS X including all the OS versions till macOS Big Sur. Our areas of expertise include:
Complete Applications from initial research to ready-to-use product
Universal binary development, testing & debugging
CodeWarrior to XCode porting
Cocoa and Carbon development & porting
Cross-platform Mac/Windows development
Multimedia software, including audio, video & imaging
Custom Extensions/Plug-in Development for Mac OS X Products
Apple Scripting
Cocoa Touch Framework for iPhone and iPad
Extension development for Safari
iPhone & iPad Web Apps using sproutcode, dashcode
X-Platform development using wx widgets
Spotlight Plug-in Development
Mac App development has great advantages like
Developing custom Mac OS solutions increase the business productivity and improve user communication
Our Mac App development solutions help you streamline your IT operations and allow you to enjoy the various features offered by the platform giving you maximum ROI
Our experienced MAC app developers can provide you the most appropriate solution suiting your requirements and specifications. Check out to hire our app developers and kick start your work immediately.
Why Wait and Watch the Way?
Grab Your Opportunity Immediately