Page - Blog Single Column Left Sidebar
Online Marketing Services
Website re-engineering and online marketing services for a leading industrial conglomerate head quartered at Chennai.
Key Achievements
Redesigned the website with their major focal points
Easier navigation and improved loading time
Optimized the website ethically using white hat SEO practices
Achieved higher keyword placements and more traffic from major search engines
Tremendous improvement in global website visitors
Increased sales conversions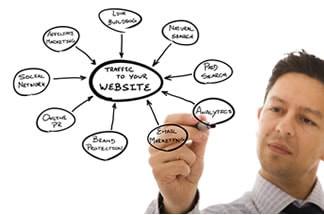 Client
The client headquartered at Chennai in India is one of the leading conglomerates with specialization in engineering, abrasives, fertilisers, finance, bio-products and plantations. With over 32,000 employees, it has numerous companies under its umbrella, of which six are listed and actively traded on the National Stock Exchange and the Bombay Stock Exchange.
Challenges
ANGLER wants to re-design the website of the client with the focal point being their three main divisions namely Ceramics, Electro minerals and Power Tools as the first phase. The second phase is punctuated by the implementation of Search Engine Optimization (SEO) of their website to enable it to rank better in major search engine results including Google, Yahoo & Bing for relevant keywords. Prior to the site redesign and organic SEO, the client's website had been generating 19.23% of its website traffic from search engines, while referring sites (third-party, non-search engine sites) were responsible for 1.69% of monthly site traffic.
What We Did
ANGLER's team of SEO expert optimizers carried out a research to identify the search terms for the site and devised a strategy to increase site positioning for the competitive keywords and increase the performance. Next the optimizers included the external link strategies and their proven marketing strategies by which they have shown a tremendous increase in the site performance in organic search results and also in increasing the conversion rate through online marketing.
Below are the activities that we performed:
Keyword research to determine the Keywords that would bring in more conversion/sales/leads
SEO Copywriting & On-page Web Site Optimization to make sure the search engines can easily interpret the intent of each page on the client's website
Off-page optimization & Social Media Optimization to increase the client's visibility across major Search Engines & Social media sphere
Ongoing Search Engine Result Maintenance & Performance Measurement using Web Analytics
Technologies Used.
Results
The implementation of Website Re-design & Web Usability with Search Engine Optimization on the client's website has resulted in better search engine visibility, increased conversions & increased sales volume of the client. Currently, major Search Engines are contributing 58.67% of the web site's traffic with the other non-search engine referring sites generating 14.55% of the site's traffic. (Source: Web Analytics).
The following key results are achieved.
Top Search Engine Rankings for highly competitive Keywords in all major Search Engines
More visibility over competitors & greater brand recognition
Increase in the volume of new customers/ potential clients & lower promotion costs
Created a professional corporate image and increased sales and conversions & precise ROI and performance feedback
Greater brand recognition and  Increase in the volume of new  customers/ potential clients.
Why Wait and Watch the Way?
Grab Your Opportunity Immediately