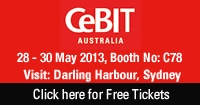 ANGLER Technologies, a pioneering, India-based Internet-Solutions company is participating in CeBIT Australia for the 4th successive year to meet with prime prospects looking for business outsourcing and channel partners in Australia. This 3-day event will be held from May 28th to May 30th 2013, at Sydney Convention & Exhibition Centre, Darling Harbour, Sydney, Australia.
ANGLER continually participates in this ICT event to strengthen their relationship with existing clients & to generate new leads. We are a decade-old pioneering Offshore Software Development Company offering Outsourced Product Development (OPD) and IT Outsourcing Services that provide unmatched value, performance and quality you look for. With a fruitful response received from last year's event – CeBIT Australia 2012, this year we have plans to exhibit our latest cutting-edge E-Business Products and solution offerings.
In the fair ground at Booth No: C78, Hall No: 3 we have plans to display our E-Business Products, Technology Skill Sets and Service Offerings through good infographics which clearly state who we are , what we do and how do our solutions assist clients  to make their business more efficient and more competitive in the current global economy. This is a right platform for audience to meet with our management team from our Indian HO and Australian offices and have a discussion on their wants and desires in person.
ANGLER's solution offerings include Outsourced Product Development (OPD) for ISVs, Dedicated Offshore Development Centers (ODC), Open Source Development, Custom Software Development, CMS & Responsive Web Design and Online Marketing Solutions that could assist you to accomplish your business goals more easily than ever.
In this IT Outsourcing Event – CeBIT AU 2013, by visiting our Booth No: C78, Hall No: 3 at  International Pavilion on 28th May from 9 A.M to 6 P.M & on 29th May from 9 A.M to 5 P.M you can get several other information on our Offshore Outsourcing Services including Outsourced Product Development (OPD) & Support, Custom Software Development, Outsourcing & Maintenance, Software Testing Services, Offshore Staffing & Managed Services with a blend of technology skills including Open Source Technologies like PHP / MySQL, RoR, WordPress, Joomla, Magento, Drupal, etc. Microsoft Applications like Net, Infragistics, SQL Server, etc, Mobile Application Development skills like iPhone / iPad, Android, Blackberry, Windows Phone, Social Media Applications and much more.
In our stall at international Pavilion you can have a view at our product lineup including E-Commerce Storefront Application, Time & Attendance Software, Content Management Solutions (CMS), Corporate Instant Messenger, CRM / SFA / Helpdesk Software, E-Learning Solutions, HR Solutions, Visitor Management Software, Survey Builder Tool, QR Code Generator and Web Based Event Management Software. The formal chat with the management & stall representatives will give you ideas on how ANGLER products, services and solution offerings would go with your business concept. We feel it as a golden opportunity to share our expertise & experience that help you get the perfect solution.

As all our staff are well trained to keep pace with the latest technology trends to better serve your needs. Register with us online and get free tickets to meet us at CeBIT Australia 2013 in Booth No: C78, Hall No: 3 to look at our galore of innovative products and technology solutions that assist you to enhance productivity. We look forward to seeing you at CeBIT Australia 2013 in Sydney, Australia.
To schedule a meeting with ANGLER Technologies at CeBIT AU 2013, Contact Us here.
Why Wait and Watch the Way?
Grab Your Opportunity Immediately