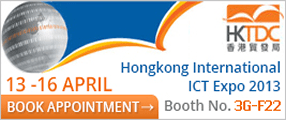 ANGLER takes greatest pleasure to cordially invite you to the Hong Kong International ICT Expo 2013, which will be held in Hall 3, Hong Kong Convention and Exhibition Centre during 13-16 April, 2013. Please visit us at our booth 3G-F22 and learn more about ANGLER's latest products and solution offerings in information and communication technologies.
As part of its goal to venture into a wider market globally, ANGLER has been participating in trade expos regularly across the globe. With active participation for the 5th successive year in the Hong Kong International ICT Expo, ANGLER will once again showcase its competitiveness to offer quality products and services to clients in Hong Kong, Singapore and other subsidiary regions.
This year we have our senior management team from our ANGLER Indian and Hong Kong offices with rich experience and many successful cases in handling various client's business requirements at hand in our exhibition booth 3G-F22 to answer visitor's queries on our wide spectrum of products and services. Conventional participants, potential customers, strategic business partners who visits ANGLER's stall at International HKTDC ICT Expo can learn about ANGLER's capabilities in offering IT consulting services help you improve competitiveness, maximize productivity, make better decisions thereby leveraging your business bottom-line.
At ANGLER, we inspire, innovate and deliver solutions to improve our clients' business outcomes. Some of our key solution offerings include Fleet Management Solutions, Web Based Event Management Software, E-Learning & Assessment Solutions, E-Commerce Solutions, Time & Attendance Solutions, Visitor Management, Smart Card & Biometric Software, Content Management System (CMS) Solutions, CRM / SFA Helpdesk, HR Solutions and Custom ERP Solutions.
Our various outsourcing services include Product Development, Custom Software Development, Open Source Web Application Development, Mobile Application Development, Responsive Web Design, Online Marketing Solutions (SEO / SEM / Social Media), Staff Augmentation Services, Software Testing, Quality Assurance (QA) Services and effective Project Management services. We also complement your existing local technical teams, thereby accelerating time-to-market in addition to lowering your operational costs at the same time.
Register with us online and fix your appointment to meet us at HKTDC International ICT Expo 2013. Make use of this business opportunity to deploy effective technologies that unlock the potential of your business and pave way to keep pace with the challenges ahead.
Be a part of this trade show and meet ANGLER in HKTDC International ICT Expo 2013 and explore ANGLER's experience, strategies and product development capabilities, especially the Mobile based solution offerings to reap the benefits of specialized services that offer a today's cutting-edge to your business.
We look forward to seeing you in this grand event – HKTDC International ICT Expo 2013 in Hong Kong! Visit us at Booth# 3G-F22.
To schedule a meeting with ANGLER Technologies at ICT Expo HK 2013, Contact Us here.
You can also visit our nearest official country websites here: ANGLER HK and ANGLER SG.
Why Wait and Watch the Way?
Grab Your Opportunity Immediately