Page - Blog Single Column Left Sidebar
Manual Mobile App Testing Services for the B2C Online Marketplace Platform
We did Service Engineer application testing to eliminate quality challenges and checks for user friendliness across devices, OS, Browsers to fix errors.
Reduced time-to-market for their mobile applications
Tested for scalability and readiness of the Mobile App
Ensures to offer simple navigation to your target audience
Parallel test execution on multiple devices, browsers and OS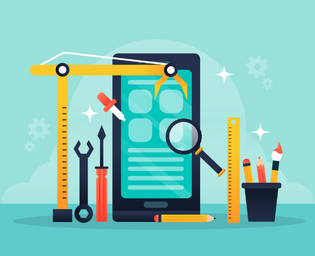 Client
Owns an B2C Online Marketplace Platform that connects businesses with consumers looking for services. They make it very convenient for smaller businesses to monetize their knowledge and expertise, to bridge the gap between service providers and their target customers.
Challenges
Client preferred to manually test mobile applications for usability, functional, and consistency glitches. They need to Test various attributes present in the application & deliver customer delight experience by making it more reliable & more user friendly. They want us to do parallel testing across all the prominent devices in the market and reduce the run time of test suite, resulting in faster build times and faster releases.
What We Did
Our Quality Assurance (QA) team did manual mobile app testing using REAL DEVICES, EMULATORS. Developed a test scenario with focus on project methodology & customer priorities, this enabled the team of testing professionals to identify the areas they have to test for expected results. By following agile methodology, we split the whole project into several sprints and for each sprints the testing is progressed along with the regression to reduce the impact issues. Following are the functional mobile app testing solutions we did
Checked whether the service engineer booking app schedules work as concluded, doesn't get overlapped while they are already booked or progressing with other service.
Tested if the service booking order reaches the service engineer, one who is within 30KM of customer's geo location
Ensured smoothness in Mobility, Tested the total amount for the service includes GST, further do test the test service states at backend and its count.
Test for the OTP and the instant update of the service sate to both the customer and the service engineer
Must view details on User experience during the force update of app to play store
Now the enterprise mobile application built is scalable & accessible across multiple platforms, the solution is feasible as it enables scheduling of service engineer with both on-hold and the resume work option.
Technologies Used.
Results
Delivered optimal user experiences
Helped reach faster to the market
Build a user-friendly, scalable and high-quality application
Implemented and managed continuous integration & continuous delivery
Enabled the client to achieve a high level of loyalty among consumers
Why Wait and Watch the Way?
Grab Your Opportunity Immediately