Page - Blog Single Column Left Sidebar
Pet Services Marketplace Platform Solution for USA Client
We created Services Marketplace Platform Mobile App for the pet owners to communicate & collaborate among themselves.
Video vault to post best pet videos and get rewards

M-commerce store for buying pet products online at finger tips

Social platform for pet owners to connect & collaborate among themselves

Online & offline courses for pet owners to gain knowledge on pet Health-care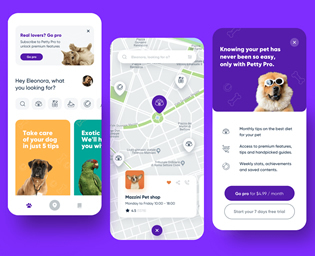 Client
Client aimed to develop a Services Marketplace platform app that connects pet owners and pet product Vendors.
Challenges
Client requirement was an exclusive Services Marketplace Platform Solution for pet owners to socially connect with other pet owners & collaborate among them.
What We Did
We developed a marketplace platform app wherein pet owners can sign up & create their pet profile & post best pet post, images & videos
Video vault competition module - keep motivates the pet owners to post their best Pet Videos to each other and get rewards
Schedule their calendar for interested online & offline course list offered to get tips & guidance to take care of their pet's health
Maintain pet wise health records, doctor visits, post care advise by veterinarians
Feasibility for pet owners to shop for pet products at fingertips from their Mobile App at their finger-tips
Based on interest, one pet owner can connect with another pet owner by sending requests
This Multi-Vendor Platform allows vendors to register and sell A-Z Pet Products and also list down various services from different vendors in one place
Technologies Used.
Results
Connectivity among the pet owners is easily established
Online pet store products & services system increases ROI of vendors
A scalable business model attracts more vendors to meet the demand
Veterinarian certified courses provided complete tips & guidance to Pet owners
Why Wait and Watch the Way?
Grab Your Opportunity Immediately