Page - Blog Single Column Left Sidebar
Mobile app development for a leading healthcare service provider in UAE
Simple and user friendly mobile app development for a leading healthcare service provider.
Reminding alarms to maintain daily routine healthcare process
Simple, user friendly and reliable app
Patients can monitor and track their health using trackers
Hospital's Health community can track patient's health with this app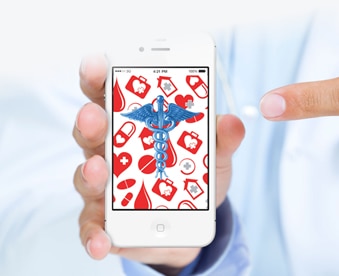 Client
The Client is an UAE based leading global entrepreneurial organization and healthcare services provider maintaining a century-long commitment to provide quality and affordable medical services to all who seek care, and to carefully manage the delivery process of quality care.
Challenges
What the client required was a user friendly, simple and reliable mobile app to keep track of their patient's health which should contain all the features that are needed to track of health care routine like Pill Tracking, Daily Fluid Intake Tracking, Diabetes Tracking, Period Tracking and Heartbeat Tracker.
What We Did
Our ANGLER mobile app development team developed a simple, user friendly and reliable app that reminds to maintain healthcare routines.
The mobile app was developed with a plethora of features that are designed to perform a certain function or tracking related to health care routine.
Pill Tracker: This feature of the app is designed in a way to keep track of patient prescriptions and facility to alarm/reminder on the medication time. It allows users to manage the usage (both amount and frequency) of medication; Using this feature users can set up and trigger reminders regarding when to take medication and can also keep a log of all the medication that have to be consumed.
Daily Fluid Intake Tracker: This feature called as daily fluid intake tracker was designed to assign and measure the daily fluid / water consumption of the patient. It is also facilitated with add reminders and water consumption progress summary / details during the day.
Diabetes Tracker: This feature is developed in a way to track and analyze key diabetes data like glucose level, description, tags, which they can edit, with an easy to use user interface.
Period Tracker: An easy to use feature was developed to keep track of periods. Through this tracker, users can also easily view the number of days until next period or number of days late. Heartbeat Tracker: An accurate Heart Rate Monitoring feature which does not need any external hardware to measure was developed. It can be used for optimizing exercises and to track progress. It also has a provision for users to join to Hospital's Health community to keep track on their health.
Technologies Used.
Results
The following benefits are resulting from the provided application.
Hospital can track the patient history easily
Alarm / Reminder features to remind about medication time
Patients can monitor and track their health using trackers
Track diabetics, fluid intake, period & heartbeats measurements easily
Hospital can get the feedback on their doctors
Hospital can increase customer satisfaction
Why Wait and Watch the Way?
Grab Your Opportunity Immediately