Page - Blog Single Column Left Sidebar
Web Application to Track & Generate Job Status Report
Employees can update milestone wise job status
Admin user can view for the status of the job assigned
Features to create dynamic MIS report templates
Generate consolidated MIS report of each job assigned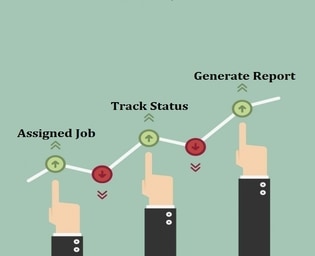 Client
A privately owned premedia service provider delivers excellent quality and superb customer service to prestigious Indian and Intercontinental brands, convertors, premedia companies and brand management companies of USA, UK, Australia, Swiss, etc.
Challenges
To developed a web application which can be accessed by the users to track and update the stages of their allocated jobs. Jobs will be allocated to users, each job life-cycle has multiple stages where its start from Job check in and ends with job check out. The admin requires interactive dashboard to get consolidated data and also requires MIS Report to define report template by own and generating the reports as per the user defined parameters.
What We Did
ANGLER has developed a web application which can be accessed by the admin to enter the job details and assign the jobs to specific user. On assignment of the Job users will get the details of the jobs and provision to update stage wise status of the job. The admin can generate n number of reports using dynamic parameter templates which they can be defined.
Technologies Used.
Results
Easy to track the jobs based on job type, customer etc
Efficient to allocate jobs to users and helps in resource management
Dynamic and customized reports based on pre-defined templates
Features to update the Job status then & there
Why Wait and Watch the Way?
Grab Your Opportunity Immediately