Travel Expenses Management is a time-consuming process when handled manually, adopt automated travel expenses (T&E) management solutions to document & process it seamlessly. Usually a major challenge associated with travel expenses management is employee adhering to the expense submission procedures and delays in reimbursements. To overcome the biggest challenges in travel expenses management ( T&E solutions ), we assist stakeholders to record business expenses and capture receipts digitally by providing them a business travel expenses management app.
Our travel expenses management app simplifies the expense claim management process for the organization as well as for the employees. By using this travel expenses management web /mobile app employees can file their expense claims on the go and they can reimburse it easily. Our dedicated app development team worked with the client & identified the types of expenses that need to be tracked, the approval processes that need to be in place, and any integrations with existing accounting systems.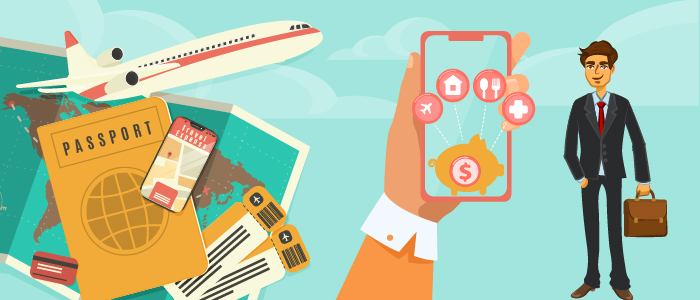 After discussion, our mobile app development team helped them build travel app as per the specific client requirements. handle a large volume of users and transactions. Our travel expenses management app comes with a user-friendly interface, basic features and functionalities to make the process of claiming the travel expenses amount easily (Flight Booking, accommodation booking) and inline to their policy. It led higher authorities to know the travel undergone by their employees and yet to go.
Besides, employee spent during the trip, such as on meals and other incidental expenses, can also submitted for claim. With this app the process of filing expense reports and getting reimbursed becomes more convenient and efficient. The claim sanctioning authorities will verify each expense against the company policy manually and process the reimbursement faster. This expense management system streamlines the approval process and reduces the number of claims that a manager must manually review.
This app development solution will aid set more accurate and reliable budgets based on reliable historic expense data. Leave us an enquiry to learn how we can help you Improve Your Travel Expenses Management Process with our advanced T&E Solutions for your company.
Why Wait and Watch the Way?
Grab Your Opportunity Immediately