Transfer of business-critical data is essential for healthcare sector clients to support with reliable flow of sensitive content. For this to happen, medical transcriptionists and healthcare professionals rely on online tools that are reliable. A best way for physicians to move voice files confidentially to the outsourced medical transcriptionist is develop a customized File Transcription Application. We at ANGLER Technologies have supported a Sydney based medical transcription services provider with our secured file transfer web application development in Cake PHP.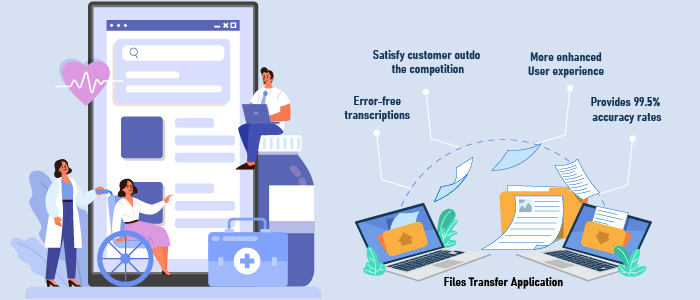 Now we are supporting them to migrate the older system to new version, this is to allow physicians and university registered users to make the most of new and improved features and capabilities. By switching over to this secured file transfer application client enjoys superior security and hassle-free user interface.
Benefits of File Transfer Application Development
Client could provide quality and error-free transcriptions within a short time
Aid in minimizing business disruption & satisfy customer outdo the competition
Ensure that reports are made available to you quicker than ever
Making user experience more enhanced and healthier than old ones
Provides 99.5% accuracy rates and guaranteed delivery times
As this platform has minimized the manual effort required for transcription, users of the client could save time & ensure all the patient information they handle is kept private, confidential and secure. This version upgrade has enabled them enjoy increased agility and flexibility. Above all , this builds a robust foundation addressing various complexities related to data migration.
If you are planning to modernize or upgrade your existing technology systems to a modern, and more secure version then leave us a note or details to get back.
Why Wait and Watch the Way?
Grab Your Opportunity Immediately