Hybrid App
We offer hybrid mobile apps development services, which is the best way to get Native app as well as Website Apps.
Our skilled developers are equipped to provide hybrid application development services at much affordable pricing without compromising the quality
Rigorous quality assurance testing to ensure top-notch applications that work well on all the popular platforms
With our hybrid app development service, we create a perfect blend of native app's usability and web app's versatility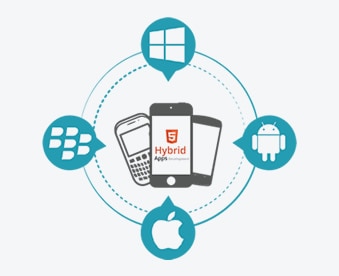 Page - Hybrid App
Make your app available to your clients regardless of the platform with Hybrid App Development
Hybrid mobile apps are built through HTML5, CSS, and JavaScript web standards and then run inside a container that allows them to be installed similarly to a native app.
Hybrid application development takes a unique mix by combining the features and capabilities from the native application along with HTML5, by doing so we get to take advantage of the wide functionality of the device and offer the hybrid mobile app a unique and refreshing user experience. Hybrid apps are widely popular because they allow cross platform development.
We provide Hybrid Application Design, development, testing and maintenance to our clients. A few advantages that you get through us include absolute transparency, high coding standards, experienced developers, latest technology, excellent UX architecture and much more.
Our hybrid App development includes frameworks like Ionic, React Native, Xamarin. Our Hybrid applications development services also includes high quality Flutter Development Services. These applications have advanced functionalities with RTP, SOAP, REST, XML and HTTP integration.
Key Benefits of using Hybrid Mobile App Development
Ease of Integration
Enhanced User Experience
Faster time to market
Easy deployment
Our Hybrid Mobile App Development Services includes,
Micro-influencer app development
Medical guidelines app development
Learning app development
Business App Development
Hire our Mobile App Developers experienced in developing and porting of mobile applications in Mobiles, Tabs and wearable devices. To explore our Hybrid App Development skills or to discuss your project contact us.
Why Wait and Watch the Way?
Grab Your Opportunity Immediately