Page - Blog Single Column Left Sidebar
Mobile App for Business Consultant
Developing a mobile application for a business consultant who is versatile and expertise in wide range of business industry.
GEO based deals
Directions to the reach consultant
Roadmap to guide users
Ratings based on feedbacks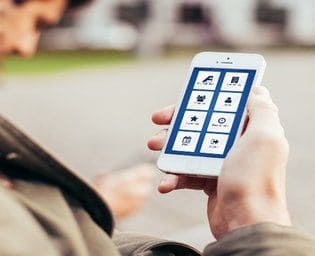 Client
Client is a leading business consultant who is passionate yet expertise in helping businesses despite of any size in an industry to do better performances by increasing the owner's knowledge regards to their business & customers. Client also help businesses to improve customer base by gathering details of operations and works on "what needs the attention" from a cost-effective manner and allows to manage valuable time.
Challenges
Client's requirement is to own a mobile app that allows users to find best available deals like shopping, restaurant offers etc., in & around their (search)locality. The business users with their mobile application can post the deals and any customer can avail the offer by directly locating the shop.
What We Did
ANGLER's Mobile app development team developed two mobile applications one for the business user and another for consumer. With the mobile app business user can take a snap, video, or upload an existing picture from the gallery, inserting catchy texts and can upload their advertisement. Post to the uploading the advertisement, any consumer who is in a need for a deal will automatically get access to this posting.
Consumers can make use of the app to choose the shop, restaurant option and by default the mobile app pinpoints their location and provide them the details of all the available deals to the nearby location. If users need to search for a deal beyond their locality, they can simply type the desired zip code in the mobile app and all the deals will be displayed from the chosen area respectively.
Technologies Used.
Results
Supplies information regarding all the offers based on user's location
Enabling offers based on category/deals/zip code
Displays friends list from connected social network
Private / individual chat options
Get route map to the shop
Options to call the shop from the mobile app
Why Wait and Watch the Way?
Grab Your Opportunity Immediately