Microsoft SQL Server
Microsoft SQL Server Programming answers your ever increasing database need. ANGLER, in collaboration with SQL Server Programming, provides supreme DBA and remote DBA services.
ANGLER boasts its expertise in working with Business Intelligence applications backed by SQL Server data-warehouses
We offer Microsoft SQL server development integrated with SharePoint server technology allowing users to share models and collaborate easily across the enterprise
Our expert team, in collaboration with Microsoft SQL server development technology, offers enterprise-scale support for numerous workloads
We follow state-of-the-art approach to offer more than satisfactory services to our clientele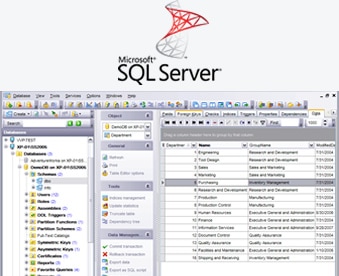 Page - Microsoft SQL Server
Microsoft SQL Server Services
ANGLER focuses on SQL server technologies in various Microsoft .NET frameworks. Angler provides high degree of scalability, robustness & device interoperability with the applications that are developed.
MS-SQL Server Development Platforms
SQL Server 2000
SQL Server 2005
SQL Server 2008
SQL Server 2008 R2
SQL Server 2012
SQL Server 2014
SQL Server 2016
SQL Server 2017
SQL Server 2019 RC
SQL CE 3.0 [Mobile Edition]
SQL CE 3.5 [Mobile Edition]
SQL Server CE 4.0
Azure SQL database
MS-SQL Server Programming Skill Sets
Cross-platform support
Cross-platform support
Stored procedures & Functions
Indexing concepts
High speed data driven applications
Triggers
Views
Caching
Migration from any kind of Database Management Systems
Performance Optimization
Data Mirroring
Data Replication
Database Maintenance Services
Load Balancing
SSIS – Integration Services
SSRS – Reporting Services
ANGLER offers Offshore Development Center (ODC) services for MS SQL server related requirements across different industry verticals. In addition, flexible development methodologies and skillset ensures the optimal solution for your requirements.
Contact us today to know more about our SQL web development services or to hire our SQL developers for your needs.
Why Wait and Watch the Way?
Grab Your Opportunity Immediately