Store'n Shipfast – Logistics ERP Software
We provide the integrated ERP Solution for Logistics industries for Enterprises, which provides the holistic solution.
Covers activities related to the physical flow of materials
Unified solutions to accelerate logistic process
Workflow driven management system
ERP integration to improve logistics efficiency
Streamlined operations enable process improvements
Leads to build better relationships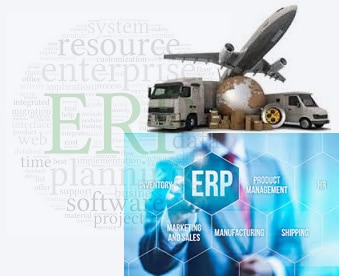 Page - Store'n Shipfast – Logistics ERP Software
Store'n Ship Fast – Your Logistics ERP Software
In today's competitive business market, Logistics sector have potentially developed to greater degrees, Logistics companies are ever challenged to differentiate their services from real-time competitors and their ultimate objective is to enable an effective & seamless transportation and timely movement of goods. Implementation of Logistics ERP Software Solutions, strengthens the cooperation, engagement between organizations and clients involved in the logistic process.
ANGLER pioneers in developing innovative superior technology products & solutions for customers with high standards. We focus on simplifying operations of our customers for nearly two decades by developing software products to meet their challenges.
Why SNSF Logistics ERP Software
Logistics businesses success relies on real-time streamlined information and processes. With Powerful logistics ERP Software (Enterprise Resource Planning), improve efficiency across multiple departments working within the supply chain. Automation of this work flow can deliver your products and services to end-line consumers with greater speed, efficiency and overall quality.
With this logistics ERP system companies dealing with supply chain solutions can easily manage everything without much efforts. This robust simple to use Enterprise Resource Planning software solution for transportation & logistics industry enables clients to optimize operational efficiency, minimize operational costs at the same time deliver high customer satisfaction.
Salient Features
Warehouse Management System

Warehouse management system (WMS) is a key part of the supply chain and primarily aims to control the movement and storage of materials within a warehouse and process the associated transactions, including shipping, receiving, put away and picking.
Depot Management System
Depot Management System enables the Freight Management Companies to book orders, deal with truck, to manage the transactions related to container repair, container conversion and storage handling activities. It has modules that work together to effectively support and maximize productivity, by leveraging these clients can have real-time operational visibility required to stay ahead of the curve.
Transport Management System
A comprehensive Transport Management Software that help administrate and execute transport activities, as well allow users to place, confirm and execute a transport request. The aim of this module is to provide seamless transport service and maximize the return on your transportation spend. It supports client by providing real time visibility on shipment status and serves client's business decisions that drive cost savings.
Freight Forwarding System

This is an acutely cohesive system that meet end-to-end needs of Freight Forwarders. It integrates with every aspect of freight forwarding operation like consolidation, import and export, transshipment, on-forwarding etc. for air freight, ocean freight and customs activities, and drives complete automation. Our Freight forwarding system ensures to drive efficiency and improve bottom line results through real-time information exchange during the entire freight operations process.
User Management
Admin user can provide proper accessibility to the intended functions of the system and enable execution of transactions. A module that allows user to define different levels of access to information in the application, by defining specific groups of users, user roles with privileges, handle all the masters that are used in the freight activities.
Customer Relationship Management
Customer Relationship Management(CRM) module helps companies create profiles for prospects, move them to existing/new customer list, fix credit limits, schedule appointments etc. & manage company's interactions with them. This module meets the most critical needs of the organization and helps discover customer preferences.
Quotation Management System
Web based Quotation Management System enables the system users to create the commercial quotation for the various services provided across Logistics industry. It has outstanding features that streamline the business process and allows organization to create, submit and track quotes.
Document Management System
Business has to deal with paper based document and this system helps convert these into digitized documents and lower risk. Document Management System module in the Logistics ERP software helps store, manage and track electronic documents stored in a central repository, organize in ways that make sense for your workflow and access needs.
How it works
The objective of the system is to automate the end to end process of the logistics service providers, reduce errors and ensure zero paper work involved. By integrating all administrative & operational data into this system logistics service provider's / freight forwarder can automate and streamline their transportation operations.
Applications
Third party Logistics (3PL)
Companies with their own warehouse
Container Management companies
Transport Management Companies
Freight Forwarding companies
Supply Chain Management Companies
Benefits
Time saved through automation Inventory optimization
Supply chain transparency
Accurate financial reporting
Reduced costs on both ends
Increased transparency
Improved customer service
Lower risk for error
Customization and scalability
Insight into your business
To push up efficiency and productivity most companies implement a Logistics ERP software solution to effectively streamline operations, to strengthen cooperation and engagement between all stakeholders. Discover more from our website – www.storenshipfast.com. Submit an enquiry or ask for a Free Demo here and we'll happily respond to your request.
Why Wait and Watch the Way?
Grab Your Opportunity Immediately