iStore – E Commerce Store Front
Our iStore E-Commerce Solution helps you to seamlessly set up a digital storefront to sell products to the consumers over the Internet.
Seamlessly sell your products directly to your end-customers
Effective Product Catalogue Management to enhance their business activities
User-friendly shopping cart leading to a win-win situation
SEO friendly,W3C-compliant storefront to improve online sales
Page - iStore – E Commerce Store Front
iStore – Online Ecommerce (B2C) Storefront Solutions
As more and more people move online in the future, online commerce is expected to explode as never before! You know your customers shop online. Your competitors have online stores. Now, you can also get your share of this exciting virtual marketplace by establishing your own online storefront or revamping your existing e-commerce site to make it really work!
iStore is an enterprise grade E-Commerce System built using industry leading Web 2.0 technologies that provides versatile virtual stores for both the pure-play online shops and the rapidly evolving e-commerce needs of click & mortar businesses.
Our iStore E-Commerce Solution helps you to seamlessly set up a digital storefront with an impeccable shopping experience enabling you to sell your products directly to your end-customers with just a few clicks, leading to better value for money for your clients and hence better profits for you.
Why iStore?
Easy to Customize
Flexible & Scalable
User-friendly Shopping Cart
SEO-friendly Store
W3C-Compliant Storefront
Social Media Applications
Robust & Secure
Multi-Payment Gateways Support
Multilingual & Multi-Currency Options
Responsive Administrator panel
Salient Features
Product Catalogue Management

Allows you to easily customize the various product categories, sub-categories, accessories and update details for each product such as description, specification, price, quantity & style. Our content management engine publishes web pages that are W3C compliant & Search Engine friendly.
Sales Promotions & Campaign Management

You can display the new or hot products from a selection pool in your home page and also prominently exhibit the best selling products of the site. Besides, you can offer discounts for selected products, fix the duration for a promotion campaign or a special offer or a clearance sale.
Banner Management

Our Banner Management module allows you to display attractive banner ads to highlight the new products or special offers or specific brands that you are promoting.
e-Coupon Management

Allows you to improve online sales and encourage repeat business and can ultimately assist in your online loyalty management strategy. A powerful product association engine allows you to cross-link other relevant items to specific products to create up-selling and cross selling opportunities.
Social Media Applications

Your Customers can easily add & store their desired products for future using "Wish-list", without having to search the product catalogue every time. They can have multiple wish-lists and also share their short listed products in their wish-list with friends and family.
Online Order Status Reporting

You can update the order status details to help your customers to track their purchases online. The details can be updated by the administrator via the online admin panel. Emails are triggered at various milestones such as, your order is confirmed.>
How It Works?
For today's consumer who is constantly battling with the clock to find time, iStore helps in ordering products online and delivers them right to his doorstep, eliminating the need to stand in a beeline for hours to buy a product. It is so easy for your customers to shop with a well organized iStore shop.
Customers can search for the products they look for and place the order by selecting them from the smart shopping gallery. The payment can be easily made through a secure payment gateway.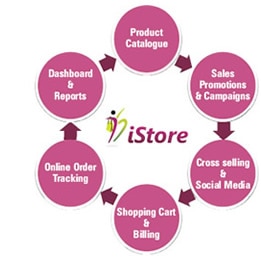 Please visit www.istore-ecommerce.com/features to know more about iStore's key features.
Applications
Retail & FMCG
Electronics, Books & Gifts
Lifestyle Products
Fashion Apparel
Software Products
Services and much more
Benefits
Improved market reach
Enhanced online presence
Increased sales conversions
Increased customer satisfaction
Reduced operating expenses
Increased profit margins
Some of our eCommerce websites,
http://ronniecoleman.co/
http://www.wetgrinders.net
http://www.chennis.com/
https://www.newtree.com/en_us/
https://www.mowcopenhagen.com/
To know more about iStore – Online E-Commerce Storefront, please visit www.istore-ecommerce.com
To start creating your store on SaaS or launch a true enterprise-level store you just need to contact us. Visit our http://www.istorekart.com/ website or Request a demo of our ecommerce solutions from us.
Why Wait and Watch the Way?
Grab Your Opportunity Immediately