TimeCheck – Time and Attendance Software
Enterprise grade web & mobile enabled time and attendance management software power packed with advanced features to automate timekeeping and reduce administrative burdens.
Adapts to the Organization's business rules
Simplifies HR Timekeeping process and integrates with Payroll software
Extensive real time reports for your analysis and decision making
Hardware Agnostic software supporting different device types
Remote attendance monitoring enabled via handheld Mobile device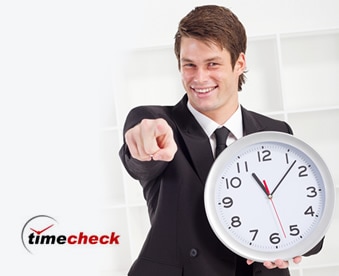 Page - TimeCheck – Time and Attendance Software
TimeCheck – Time & Attendance Software
Timecheck, is a next generation enterprise grade web & mobile enabled time and attendance management software. Developed innovatively with custom & special features to handle the various attendance requirements of your organization, even the most complex shift rules for your diverse workforce.
In today's time, offices find managing employee attendance becoming a challenging task. Many organizations find a great deal of time getting wasted in verifying & processing biometric data. Implementing automated Time & attendance management software increase efficiency, frees up precious administration time and helps minimize the errors with manual data entry.
The cutting edge attendance management system automates employee time sheets and empowers HR view graphical reports in real time, including databases collected from remote locations. TimeCheck is designed in a user friendly manner to integrate with any hardware device and easily handle even complex attendance logics and entirely remove the stress involved in daily monitoring employee Late in / early out, shift pattern scheduling, overtime handling, on duty tracking, Flexi time management etc.
Timecheck Software would be an ideal solution for any organization that looks to robust system that does all for you. It ensures on-time payment of salaries, when integrated with your existing payroll software (HRMS, SAP, Payroll, Tally, Oracle).
Key Highlight
Integrates with Various Types of Hard ware device
Timecheck's feature rich employee time and attendance software can be integrated with most Biometric and Smartcard terminals. Various supporting Hardware Devices include Suprema, ESSL face recognition system, Anviz Face Pass Pro, ZK, Iris, Hanvon & Suprema Face Recognition Devices. Our fully integrated & automated solution ensures accurate reporting of attendance data on time as per business requirement.
Why TimeCheck?
Shift Management
Approval of leave / permission / overtime/ shift with notification reminders enables managers to do strategic workforce planning.
Real-Time Visibility
Get attendance data from varied sources in real time and gain transparency to view online timesheet in one single click.
Extensive Report Generation
Get wide range of attendance reports according to your payroll needs and gain insights to improve employee productivity.
Mobile App
Easily view Dashboard reports and manage your employee attendance on the go from anywhere at any time with ease from your smartphone.
Manage Any Type of Shift
Eliminates manual efforts in managing employee shifts and simplifies entire shift management for varied employee groups.
Geo Attendance Tracking
Field employees need not rely on biometric attendance terminal, can punch- in even from remote location using their mobile app.
Integration with Payroll
Reduce costly errors & a great deal of time with seamless integration of leave and attendance information for all employees.
Microsoft Certified Product
Application is designed & developed by Microsoft Certified Professionals with in-depth knowledge in Microsoft technology.
How it Works?
Applications
Small & Medium Businesses
Large Enterprises
Manufacturing & Engineering
Medical & Healthcare
IT Software Services
Government Organizations & Associations
Benefits
Adapts any Organization Business needs
Manage Multiple Company's Attendance data
Improved staff productivity
Real time Data Processing
Substantial Cost saving
Web and Mobile-based software
To get more info about this effective time and attendance software solutions visit our website (or) you can also request a demo. Please leave us an enquiry and we'll get in touch with you.
Why Wait and Watch the Way?
Grab Your Opportunity Immediately