Every Year GITEX Technology Week attracts tech trend-setters, IT giants, and industry innovators from around the globe. ANGLER Technologies, a renowned India based IT Outsourcing company is glad to announce its participation at 37th Gitex Technology Week in Dubai next month for the 12th consecutive year.
This year we will showcase our cutting edge products, technology expertise as well as establish connections with potential clients. Our active presence in this one-of-a-kind event helps us to interact with global IT leaders, teams, vendors, and business partners as well as sign strategic partnerships with Middle East market.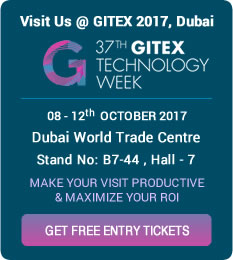 Our range of IT services include
Custom Software Development
Web Application Development
Mobile Application Development
Software Testing Services
Responsive Web Design & Development
UI/UX Design & Development
2D/3D Animation Development
Outsourced Product Development (OPD) & Support services include Offshore Staffing & Managed Services with a blend of technology skills including
Open Source Technologies
Programming – PHP, CakePHP, Mongo DB, Ajax, Ruby On Rails, SOLR
CMS – WordPress, Joomla, Drupal
E-Commerce – Magento, OsCommerce
Microsoft Technologies
Dot Net Framework, MVC, MVVM, Web API, Dot Net Core
Dynamic CRM, Fast Reports, SSRS, SSIS, Umbraco, SOLR
Mobile App Technologies
Native Android & iOS app development (Xamarin , Phonegap, Swift)
Testing Services
Automation Testing, Performance Testing, Security Testing
Performance Testing – JMeter, HP Load runner, VSTS
Functional Testing Tools – Selenium, Nightwatch Js, QTP
Security Testing Tool- ZAP, Acunetix
Our Technology Products
Time & Attendance Solutions
E-Commerce Storefront Solutions
Quality Management Software
Event Management Software
Logistics ERP Solutions
To make us your offshore outsourcing partner Register with us online and get free tickets to meet us in person next month, between 8th – 12th Oct 2017 at Stall No: B7- 44. Your Visit to our stall will let you know the mindshare of ANGLER.
Why Wait and Watch the Way?
Grab Your Opportunity Immediately