E-Learning & Assesment
Web-based, easy to implement E-Learning & Assessment software to enhance your training needs
Eliminating geographical barriers in addition to opening up of broader education option
Virtual classrooms allowing greater number of people to attend class
24 x 7 accessibility makes scheduling easy
Robust platform to learn at anytime and from anywhere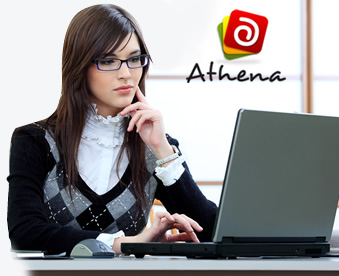 Page - E-Learning & Assesment
Athena – E-Learning & Assessment Software
With technology evolving at its current pace, scope of the web-based learning is virtually limitless. E-Learning is an increasingly important element in learning and it provides the facility to deliver learning over the Internet or via your intranet, integrated with your tutoring, learner support and management processes. E-Learning provides exciting, new opportunities for effective training.
Athena is a online learning & assessment management system to deliver quality content management with question bank and evaluation to the end users through internet or intranet in an effective way. It provides a robust platform to learn at anytime and from anywhere.
Athena provides an outstanding web-based Learning Content Management System (LCMS), using which the administrator can manage the learning contents, create assignments, training exams and perform online assessment along with evaluation & analysis.
Athena enables rapid e-learning deployment and maintenance with a single point administration.
 Salient Features
Housekeeping featuresFully hosted LMS solution for effective learning
Learning materials management with PPT, audio & video
Question bank creation & management
Creation of online assignments and tests
Practice test for continual improvements
Real time online assessment and offline evaluation
Performance monitoring & evaluation
Comprehensive reports with graphical display
User-friendly & informative dashboard
Online support from tutors
Interactive features like Chat, Forum & Blog
Online fee payment
Secure, hierarchy-based access privileges for users
How Athena Works?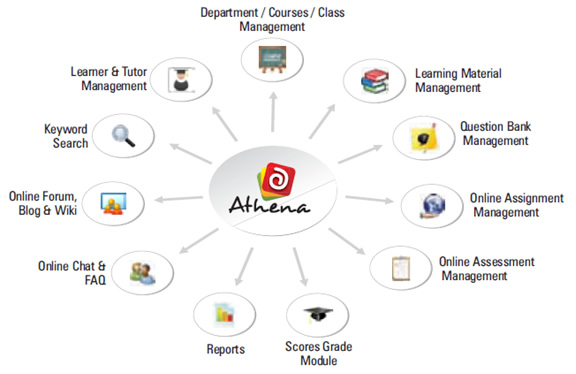 Applications
Schools
Colleges & Universities
Corporate Companies
Training Institutes
Distance Learning Programs
Learning Oriented Websites
Benefits
Learning is self-placed and offers students a chance to speed up or slow down as necessary
Learning is self-directed, allowing students to choose content and tools appropriate to their differing interests, needs, and skill levels
Designed around the learner
Geographical barriers are eliminated, opening up broader education options
24/7 accessibility makes scheduling easy and allows a greater number of people to attend classes
Potentially lower costs for companies needing training and for the provider as well
Why Wait and Watch the Way?
Grab Your Opportunity Immediately