Offshore Development Center
Our Client-Centric VODC Model Brings You the Best of India Advantage Cost-Saving, Quality, Reliability.
Holistic project development methodology with emphasis on sound project management
You do not need to worry on investments in infrastructure, building, recruitment & maintenance
Virtual 24 hour office to man your operations, maintain it and help you focus on core competency areas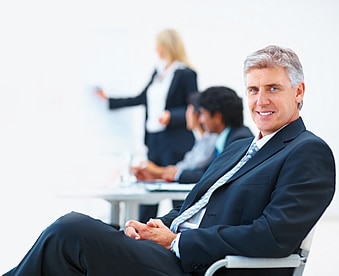 Page - Offshore Development Center
ANGLER has brought out its unique Virtual Offshore Development Center (VODC) model as part our vision to provide world-class, on-demand products and services. This model showcase ANGLER's capacity and capability to deliver reliable, high-quality solutions and the reasons why ANGLER must definitely be Your Preferred Offshore Outsourcing Partner.
Our unique Offshore Outsourcing model helps you to outsource all components essential for an ideal offshore development. You do not need to worry on investments in infrastructure, building, recruitment and maintenance. We provide you a virtual 24 hour office to man your operations, maintain it and help you focus on core competency areas.
With a successful track record of 18+ years, a dedicated team of 175+ professionals, 1000+ successful projects and 10+ global locations with local account management support, ANGLER aims to be your long-term offshore partner for both your Custom Software Development Outsourcing and Outsourced Product Development (OPD) providing programmers and developers via our Virtual Offshore Development Center (VODC) services.
We offer high-end solutions to provide financial return, risk mitigation, strategic alignment, time-to-market impact and value creation. Developed and deployed using proven methodologies for web and software development, backed by project management, clear and comprehensive documentation, and unique FSP model – Offshore Development Center Model, ANGLER Offshore Outsourcing models have allowed our offshore partners to prioritize their business better.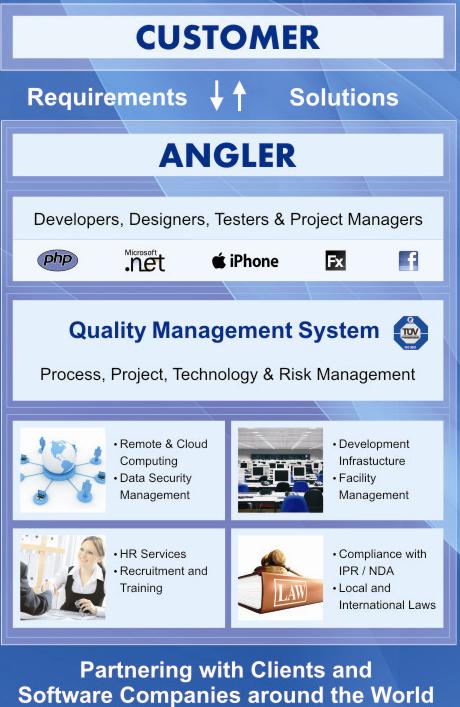 World-class Development Infrastructure
Modular workstations with fast PCs on a high-speed switched network
IBM-powered Linux and Windows servers for internal development
Internet access and Library for research and learning
Established Project Management Methodologies
ISO 9001- certified Quality Management Systems
Adherence to SDLC – Requirements, Prototype, Coding, Testing, Release
Project Management software to plan, allocate tasks and monitor progress
Good Documentation standards for source code, system manual and user manual
Dedicated Testing and Quality assurance team
Periodic progress reports to clients and clear escalation guidelines for handling of issues
Excellent Communication Facilities to Ensure Smooth Offshore Delivery
VoIP and teleconference facilities
Skype chat and 24 x 7 email and Internet access over high-speed broadband connections
Risk Management and Information Security Processes
Well-laid out intellectual property practices
User login-based access for data storage and retrieval of source files
Access control, Firewall, anti-virus and periodic data backup systems
UPS and Generator facility for Power backup
Progressive HR Practices that Support Our Team to Deliver Best-in-Class Results
On-demand work-shift to give you the convenience of working in your time-zone
Continual training & development programs and periodic performance appraisals
Regular Management Review Meetings to ensure continual improvement
How Does VODC Help You?
More than 40% to 50% cost saving overall
Reduction in hiring, training and infrastructure costs
Flexible and round-the-clock working hours including overlap for your time-zone
Access to well-trained and highly skilled man power – view our Technology Skills
Ramp-up or Ramp-down offshore capacity based on business demand
Engagement Models
You can choose from any of the following software outsourcing models
Our recommended value-for-money model – Virtual Offshore Development Center (VODC)
Time & materials model
Fixed bid model
Strategic Alliance/ Joint Venture model
Location Advantage – Technology, Talent & Team Spirit
Technology, Talent and Team, this integrated offshore offering differentiates us from any typical "Body Shop" IT company. We are based in Coimbatore, South India, a city known for its entrepreneurship, salubrious climate, good air connectivity and large talent pool of English speaking IT professionals. Our business culture is driven by a strong value-system of integrity and excellence with a focus on long-term relationships.
Time Zone Advantage – Create Your 24-hr Virtual Office
We have dedicated teams that cater to your product or project development needs in your time zones, providing a virtual 24 hour office to our overseas clients. Offshore Outsourcing to ANGLER helps you to focus on core areas, increases the development turnaround and time-to-market.
Timely Execution – Value for Money
This has never been a cliche with us and never will be. It is integral to our work ethos and work approach.
Methodology Advantage – Setting the Business Metrics Right
ANGLER's unique Outsourced Product Development (OPD) service HeadStart coupled with offshore model Virtual Offshore Development Center (VODC) relies on strong process methodology strengths that encompass all areas of software engineering. We adopt a holistic project development methodology with emphasis on sound project management from initiation, planning, design, development, testing and release. Our dedicated teams meet, share and brainstorm on technical innovation, knowledge sharing and risk analysis and mitigation.
People Advantage – The Pillars of Strength
Young. Creative. Disciplined. People with right focus, approach and culture. A culture built on trust and commitment – people who really make a difference to you in innumerable ways. Our people identify with the real-time needs and deliver to match your expectations. Experience of working in different platforms, to different cultures and communities have brought in the requisite soft skills to handle communication with ease and relate to your requirements.
Strength of the Brand – Living our Vision
A young company with sound financial strength, people, technology, experience and more importantly with the promise of the future. Starting in rented premises, ANGLER has today grown as a global company with wholly-owned subsidiary operations in New York, London and Dubai besides a wide domestic presence in India.
We have established a strong brand reflecting our value system, process-approach, best practices, ability to scale and timely project execution. We derive our inspiration from the dedicated efforts of our team, vision & guidance of top management and client support we continue to enjoy worldwide.
We always think long-term and our real-time working knowledge in different verticals, on different domains, in different geographies will be a key differentiator for your success in Today's Flat World.
Have your own dedicated offshore teams to complement your on-site technical team, build an alternate delivery center, outsource coding & testing modules, augment niche technology skill sets and enjoy significant cost advantage. We will be your trusted Offshore Development Partner in India.
Staff Augmentation Services
Our staff augmentation service enables you in getting qualified and experienced personnel to fulfill your requirements and working exclusively for you from our team.
Our virtual assistants are highly expert to mange development
Time bound working towards maximum business optimization
Skilled people availability at your time and requirement
Today's organizations are challenged to maintain lean operations while meeting their needs for human capital. In our wide range of services, we are providing Staff Augmentation Services for high-end implementations to our clients. With the help of these highly reliable, efficient and flexible services, we have gained the maximum client satisfaction and achieved topmost position in the industry. These services are provided to our clients as per their requirements and specifications and at cost-competitive prices.
How Can We Help You?
ANGLER's supplemental staffing and managed teams services can help you augment your staff and manage your IT projects at a clear cost target. Supplemental staffing is a cost-effective approach to quickly augment your staff with precise skills for a specified period of time. In addition to increasing your technical breadth, supplemental staffing can help you:
Free internal resources from the time-consuming hiring process of advertising, screening and verifying credentials
Transition consultants from temporary to permanent when they fulfill your specific job requirements and fit well within your team matching clients' needs
With consultants' skills has been the cornerstone of ANGLER since the inception, we have cultivated our client and consultant relationships, working with some of the most talented people and leading companies across the globe. ANGLER's Offshore Development Center helps you address technical resource requirements with contract, contract-to-hire and direct hire IT recruiting services. We invite you to see the difference working with ANGLER makes. Our strength is in our people and we are ready to work hard for you.
Why ANGLER for Staff Augmentation?
To minimize the resource management cost
Competitive rate advantage for non-IT companies
Ability to access IT skills  at when and where required
Use leading IT skills without any investment
High tech development with quality development skills
Long term and short term staffing facility
No need to hire for short term project development
Minimize infrastructure cost
Why Wait and Watch the Way?
Grab Your Opportunity Immediately