Design Services
Our Interactive Media (IM) Division makes use of latest technology & offers a wide range of design services to promote your business online.
Unique design & branding services to boost your profitability
Promotes your products and services to target audience
Powerful medium to impact visitors with outstanding visual effects
Increases your brand awareness besides delivering professional message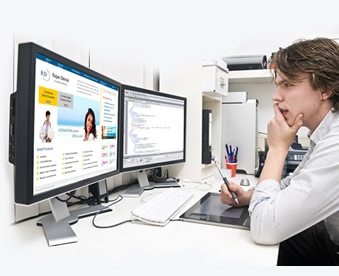 Page - Design Services
ANGLER with its quality Interactive Media (IM) Division offers a wide range of design services including dedicated Web Design & Flash Development, Multimedia Solutions, Product Demo & CBT, Software User Interface Design, Logo/ Identity Design and Digital Branding Solutions in India, Dubai, Singapore, Hong Kong & South Africa. ANGLER brings you total website solution, from planning and designing your site, through creation and hosting, to maintaining, re-designing and marketing the site on the Internet by deploying some of the best Website usability, SEO (Search Engine Optimization) & other Online marketing services.
We also offer you a gamut of multimedia development solution right from planning and designing, through creation (including the preparation of audio, video and graphical assets) up to production tailored to suit your requirements.
ANGLER's Design Services Offerings
Web Design
Website Re-engineering
Bootstrap Framework (Responsive Development)
Parallax Design
User Interface (UI) Design
2D / 3D Animations
Product Demos
Training Presentations
Logo Design & Corporate Branding
Why Wait and Watch the Way?
Grab Your Opportunity Immediately