Design Tools
With our vast experience in Web Design we can confidently recommend the use of Design Tools and Softwares for top-quality results in web design and multimedia.
Using Fireworks and Dreamweaver, we design  eye-catchy websites
We develop creative and interactive multimedia presentations with the help of Director, Premiere and AfterEffects
PhotoShop, Illustrator enable us to create or artwork that can also be used for print
These cutting-edge design tools enable us to produce for our clients a wide range of high quality design solutions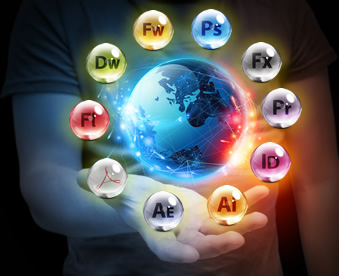 Page - Design Tools
We lay solid foundation in web design development. Keeping track of the latest technological innovations we make good use of the most advanced web design tools, thus ensuring the top-notch quality of the end-product and complete satisfaction of our customers. Our step-by-step process guarantees that nothing is overlooked in the final product. ANGLER has a large pool of resources and the required business and technical expertise to provide interactive media solutions of any complexity. We provide complete front-end and back-end development based on the latest technologies and industry trends.
Web Design & Multimedia Tools We Use
Adobe Photoshop
Adobe Fireworks
Adobe Dreamweaver
Adobe Flash
Adobe Director
Adobe Illustrator
Adobe Premiere
Adobe After Effects
Autodesk 3ds Max
Why Wait and Watch the Way?
Grab Your Opportunity Immediately