Unity 3D
We do unity game / application development for various platforms including iPhone / iPad, Android, Play-station, XBOX & PC.
Preferred game engine for developing multiplayer games
Supports cross platforms as well as various devices
Renders natural and fluid movement
Provide a great experience for end users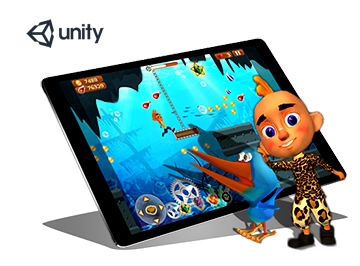 Page - Unity 3D
Unity is a multipurpose, cross-platform game engine that is ideal for the development of cross platform 3D games, supports 2D and 3D graphics and simulations for computers, consoles, mobile devices. With unity 3d tool we can develop games and apps with high-quality graphics and engaging features. Unity 3D tool has features such as visual editor, multi-platform game build support, full and robust scripting and animation system to provide robust development for high-quality games and apps.
Our skilled developers can work on this tool and reduce the time-frame of the development cycle and help plan for rapid releases. By using this cutting edge tool we deliver your content to virtually any media or device. We can work on Augmented reality AR, virtual reality VR and Mixed reality MR HoloLens projects and multiple platforms developments like Android, iPhone IOS, windows PC, Apple Mac PC, Linux, Facebook applications/Games, Xbox, Play station PS etc.
Features & Benefits
Built on One Platform
Portable Architecture
Stunning visuals & full HD graphics
Excellent Game Design & Artwork
Industrial Solutions
Education Industry:
We turn boring training into an interactive session.
Real-Estate:
We develop full 3D simulation,3D Architectural Rendering, Animation, Exterior, Interior, Floor Planning and Video Production of a building.
Production Industry:
Create the safety security training system for the employees
To build comprehensive, thoughtful and purpose-driven solutions that are tailored to meet your business objectives get in touch with us if you are looking for something similar.
Why Wait and Watch the Way?
Grab Your Opportunity Immediately