Virtual Reality
We develop VR Web, Mobile apps to empower your business and let user experience the 3d world. With Unity VR team we
Design and Develop virtual reality applications for any industry vertical
Give an immersive experience for next generation users
Our solutions are scalable across a wide range of platforms and systems
Complete suite of services for application development and maintenance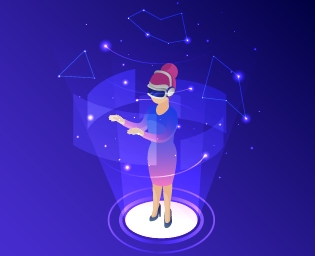 Page - Virtual Reality
Virtual Reality – VR bridges the gap between the real world and a simulated reality and caters to the need of the customer in the form of greater visual engagement. It drives users craze and helps business to optimize business process, achieve collaborative decision making, increase productivity. Our experienced team can support you Get interactive, seamless and user-centric Virtual Reality applications with faster turnaround time with a better user experience.
We utilize Unity technology to create virtual reality apps for various platforms including Oculus Rift, HTC Vive, Samsung Gear VR and more. Our VR solutions for various Industry verticals like Retail, Education, Manufacturing, Tourism, Health Care, Real Estate will help perform their day-to-day work efficiently by eliminating potential human errors.
Architectural Designs
Interior Design
Product Simulation
Interactive Walk-throughs
Guest Lectures
Product Catalog Visualization
AR-assisted Window Shopping
Interactive Kiosks
If you have a question how VR can be used for your business drop an enquiry or call us we can help you out with the best quality VR App.
Why Wait and Watch the Way?
Grab Your Opportunity Immediately